Craft Room Makeover
Many of you would have followed the posts about my craft room makeover on my
facebook page
 and now you can see what I did with some of the photos.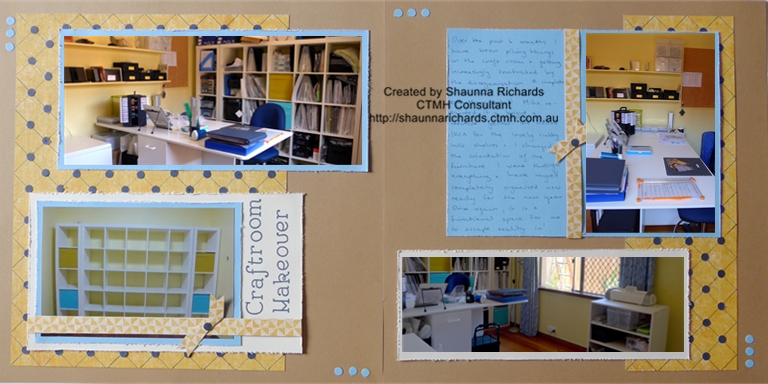 I created my own background paper with a pen and a hole punch!  Begin with a full sheet of 12"x12" paper in a plain or subtle pattern.  When you lay this on your
Versmat
(Z1279) you can still see the measurements and markings around the paper.  Use the
Ruler
(Z1471) and a pigment ink pen to draw diagonal lines across the page.  Start in a corner going from 1" to 1" and work towards the centre.  Do the same from the opposite corner and then you can rule the final central lines (which are longer than the ruler) by matching the grid lines on the ruler to previously drawn lines.  Turn the paper 90º and draw another set of lines to create the diagonal grid shown above.
Using a standard hole punch create lots of dots to glue over each line intersection.  I used
Bonding Memories Glue
(Z553) and a pair of tweezers for this job. 
HINT
: trim paper to fit your layout and place on page along with photo mounts BEFORE adding the dots and then you don't need so many.  I distressed the edges of my photo mounts to add a bit of texture.
A final touch was the paper ribbons.  These were just 1/2" strips of paper with a short segment dovetailed and twisted to create the bow.
This technique could be adapted by increasing the spacing between lines and using larger shapes over the joins or by substituting strips of paper for pen to create the lines.
Happy scrapping!
Shaunna