Kite Surfing Pages
Perth is a windy city.  Each afternoon in summer, we enjoy a fabulous sea breeze.  We often take our dog to the beach and enjoy watching the kite surfers in action.  We don't know any of them but they look so beautiful in action, we just had to take some photos.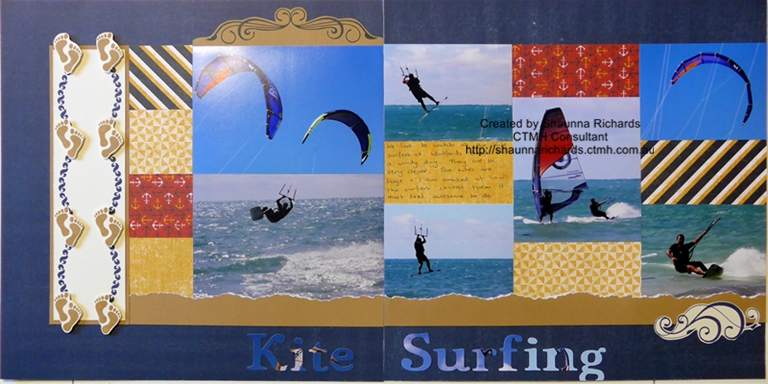 The layout of this page is pretty much copied from Layout 5 of CTMH
Make it from your Heart Volume 1 Ideas Book
.  The
Tommy
Paper pack (X7169B) colours worked perfectly and I was even brave enough to sand the surface of the
Outdoor Denim
(1275) cardstock background to give it a textured look.  The border on the left was created using the
Surf's Up WOTG
Stamp Set(G1059).  I curved the short border stamp on my block and the feet are cut out and raised on 3D foam tape.  The gorgeous swirl accents came from a fabulous stamp set called
Swirls Around
(D1551)
The title was created from some spare photos using the alphabet that came pre-installed on my Cricut. Add some spaces between letters so they don't cut over a photo edge.
Use the left over photos as a guide for placing the letters.  This ensures your spacing is nice and even. The easiest way to glue the letters to the page is to run a 
Bonding Memories
 glue pen straight onto the page inside the letter outline and then drop the cut letter on top of it.
January is your LAST CHANCE to order Workshop on the Go kits from the current catalogue - they will all retire on Jan 31st.  There are several stamp sets retiring too.  To see a full list of retiring products visit my online shop at
http://shaunnarichards.ctmh.com.au
Like to receive blog entries direct to your email?  Simply click on the RSS Entries link to the left, add your details and you will receive an email each time I post something.
Happy page making,
Shaunna