Taste of Summer Gift Bag
How cute is this little gift bag made by my friend, Rose Kendell?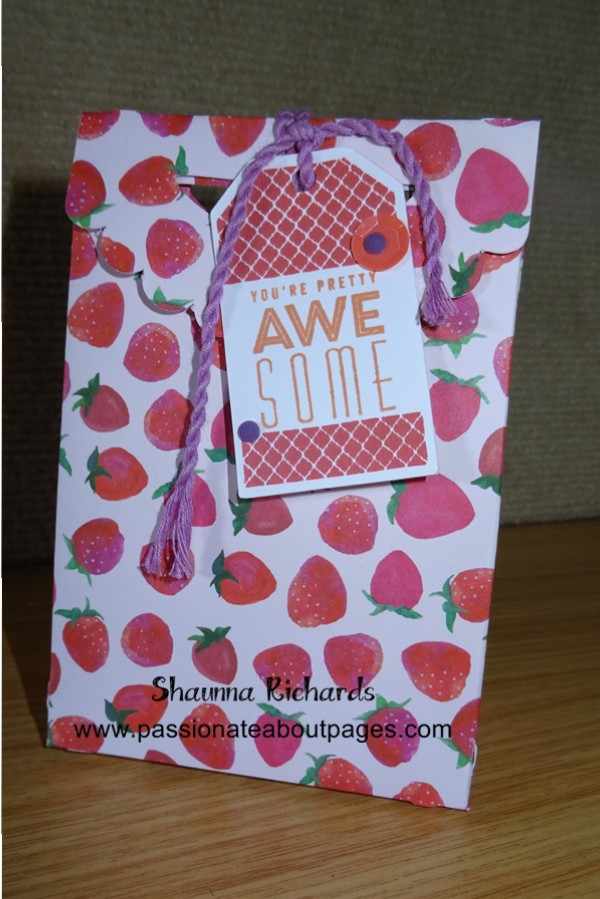 She used the Cricut Artiste Cartridge (p79 3D Object).  The Cricut cuts score lines making folding super easy.  Glue it together with Bonding Memories (Z553) for a strong hold.
Notice the purple bling on the tag?  It's not…
Make a pretty card box
Following on from last Thursday's blog, I decided to make another set of the
Snowhaven cards
as a gift for my friend who is a bit snowed under with life at the moment to think about Christmas preparations.  Having made the cards, I needed a container to present them in.
The
My Creations range
of chipboard boxes, frames and albums are perfect for gift giving.  I daubed around the edges of my box in Glacier ink and then cut paper panels to fit to top and sides of the box.  Add some left over embell…
Aussie themed gift wrap
My husband is re-turning 21 tomorrow.  Seems like only yesterday he returned 21 last year!  I am excited to celebrate with him and our family but I'm also excited to have a reason to play with my NEW stamp set,
Hoppy Birthday
(D1597).  This is one of 5 sets of stamps released EXCLUSIVELY for Australia and New Zealand by Close To My Heart.  You can view all 5 sets by clicking
here
.
I have a small gift for him... something he really wants but it's just the one gift.  I wanted to make it look a bit …